Parsons-Meares LTD is a Premiere Broadway costume shop known for its excellence in artistic and fantastic costumes. We have produced costumes for many Broadway hits such as Hamilton, The Lion King, Aladdin, Wicked, Cats, Phantom of the Opera, and Starlight Express. Seventeen Tony award-winning costume designs have featured our creations.
Other productions include the Ringling Brothers Barnum & Bailey Circus, Siegfried & Roy, Marvel Universe Live!, and multiple shows for Disney on Ice.
Dance and opera collaborators include the Metropolitan Opera, American Ballet Theater, and Alvin Ailey American Dance Theater. Our work can be seen in film, on tv, and in individual creations for clients.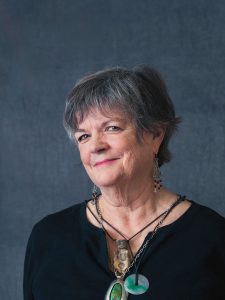 Sally Ann Parsons and her husband James Meares founded Parsons-Meares in 1980. Working at first out of an abandoned school building, the business grew to become one of the premier costume shops in New York City. Since Jim's death, Sally Ann has been the sole owner, often employing over 60 dressmakers, craftspeople and artists for work on a single project.
Sally was honored with the Theatre Development Funds' Irene Sharaff Artisan Award in 2009. Today she serves on their Advisory Board. A former member of United Scenic Artists Guild 829, Sally Ann has designed for the Joffrey Ballet, many downtown dance companies and for Theatre Three Collaborative.
In 2016, Sally Ann was the first costume maker to receive a Tony Honor.
In the thousands of designs Parsons-Meares has realized for theatre, dance, and film, each garment is ushered through its various stages of development with intense scrutiny and no small measure of judgement. Constant alteration and refinement mark its journey to completion. This high degree of refinement and scrutiny speaks of Parsons-Meares attention to detail and excellence. Precision beading, unique sculpted heads, intricate fabric painting techiniques, and a bevy of talented and experienced operators, finishers, dyers and drapers all contribute to the finished design.